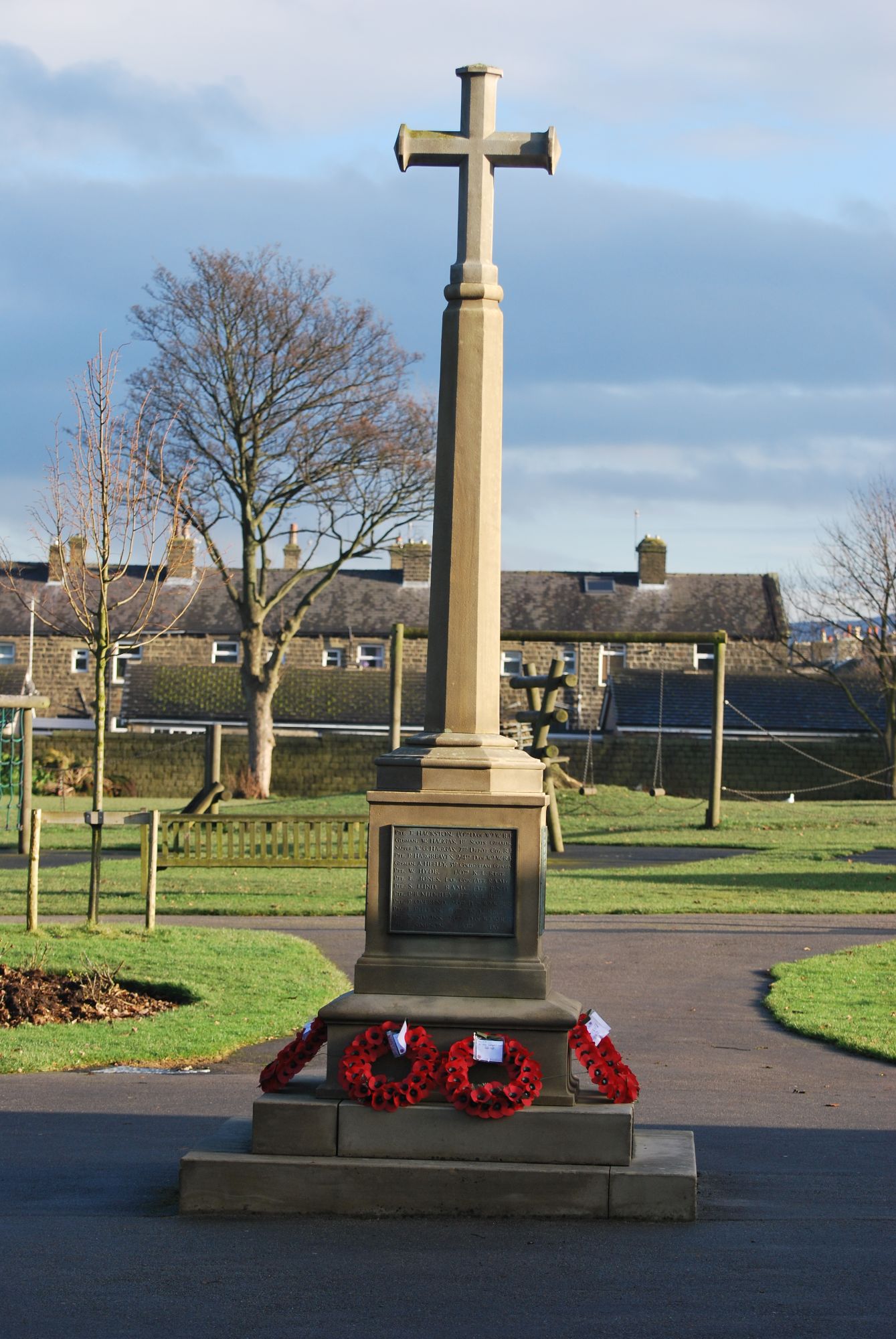 In 1919 June 24th land formerly part of two closes called East Field and Higher Stone Haw, an area of 1,08 acres (5237 sq yds), was given by Mr Bairstow in memory of the young men in this Parish and particularly his nephews having come safely through the War (part of the park playing field).
The same year Ministers, Councillors and others formed a committee, a war memorial was suggested.
A cenotaph was built in a central position in the park. It was made of local stone with three bronze plaques of which are inscribed the names of the dead.
The first service at the cenotaph was held on the19th March, 1921 after it had been unveiled by Col. Bateman of Lyndhurst.
A separate plaque was fitted on the memorial after the 1939-45 war. The unveiling took place on the 30th April 1950 by RM Bateman Esq.
A further plaque was added to mark the 100th Anniversary. Its unveiling was on Sunday August 3rd
August 4th 2014 marked the centenary of the outbreak of the First World War..
Names added included:-
Albert Akrigg – born in Lothersdale but was a resident of Sutton when he joined up, he died in 1925 as a consequence of wounds received during the Great War. He is recorded on a Roll of Honour at St Thomas's Church, Sutton but not on the village War Memorial.
Bertram Greenwood Clough – born in Sutton but he was a resident of Steeton when he joined up.
Francis John Kay – born in Sutton but he was a resident of Lothersdale when he joined up.
George Frederick Thorpe – born in Sutton but he was a resident of Cowling when he joined up.
Harry Willis Edwards – born in Bishopthorpe, Yorks, lived in Sutton for a short period.
James Mosley – born in Sutton but was a resident of Crosshills when he joined up.
Joseph William Nelson – born in Sutton – resided Sutton – died of wounds in 1922 and is not on a memorial.
John Smith – born in Sutton was a resident of Glusburn when he joined up.
Samuel Smith – born in Sutton but was a resident of Brierfield, Lancashire when he joined up.
Sylvester Petty – born in Sutton but was a resident of Keighley when he joined up.
Thomas Wright Carson – born in Sutton but his family moved to Skipton, he became a solicitor and moved to Llanely in South Wales. Following the outbreak of war he returned home to Skipton where he joined the West Riding Regiment.
War Memorials were erected to remember the men who marched out of their towns and villages to fight for their country, whether or not they were born there. That is why nearly half of the names on the present Sutton memorial are of men who were not born in the village but who at the outbreak of war were resident in Sutton.
Likewise it is why the majority of the men on the above list are remembered on other memorials. It would be an impossible task for every town and village to track down fallen soldiers and list them on the basis of their place of birth, many were married and lived miles, if not continents away. Place of birth is irrelevant, The important thing is they are remembered.
At 11pm on 4 August 1914 Britain declared war on Germany, ushering in one of the darkest periods in our history.
As the moment approached, the British Foreign Secretary Sir Edward Grey made the famous remark. "The lamps are going out all over Europe; we shall not see them lit again in our life-time".
In a dramatic UK-wide event LIGHTS OUT many turned lights off on public buildings and homes from 10pm to 11pm on 4 August, leaving on a single light or candle for this shared moment.
11/11/2018 - Parish Council Minutes
Remembrance Sunday, the second Sunday in November, is the day traditionally put aside to remember all those who have given their lives for the peace and freedom we enjoy today.
On this day people across the nation pause to reflect on the sacrifices made by our brave Service men and women.
Today a service continues to be held on Remembrance Sunday around the Cenotaph in the Park.
Wreaths are placed by the Church, Parish Council and others to commemorate Armistice Day.